Cheltenham based Commercial Group provide a range of business services, including IT Solutions. In early November they held a 'Shooting For Distinction' event at Ian Coley's shooting school on the edge of the Cotswolds.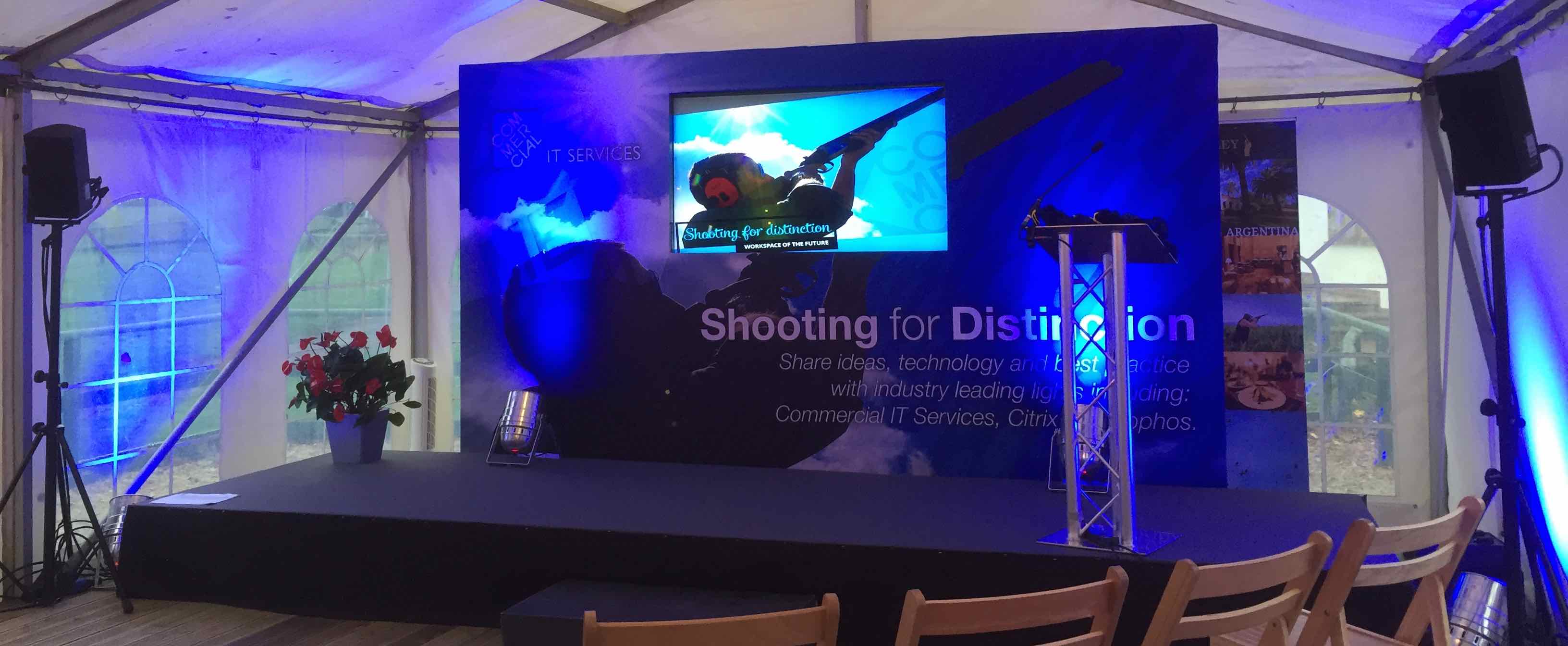 Gloucestershire Audio Visual Supplier for local conference.
Production AV, Gloucester based Audio Visual supplier, worked again with Commercial group to deliver a high quality, simple but effective solution for the event. The venue was a marquee to adjacent to the mains school and shop buildings, which required a high brightness solution to combat the high ambient light levels, and also work round the lack of space available for projection.
Compact Full HD Audio Visual Solution
To take up as little space as possible Production AV supplied a Samsung 65″ LCD screen, built into the custom set. Content was fed from a pair of show laptops running PowerPoint via a Barco PDS switcher to give the ability to seamlessly switch between sources, and fed to the screen over a fiberoptic cable to ensure that the quality of the signal was of the highest possible level.
Audio was handled in the space with a range of equipment, namely d&b Audio for the speakers and amplifiers, Sennheiser G3 series Radio Mics and a mixer from Allen & Heath.
A simple lighting package was employed to provide uplight to both the set and the rest of the space, along with profile lanterns for lighting the presenters whilst on stage. Production AV utilised LED Par Cans, combined with ETC Source4 Junior lanterns, controlled with a simple desk and Zero88 dimmers.
Set, Stage and lighting.
Production AV supplied a compact set tailored to fit within the available space. Making use of stock flats, along with specifically built components, the 65″ screen aperture was created. The whole set then had a custom printed wrap applied to give a smart appearance in keeping with the Commercial Group image.
Production AV also supplied a carpeted stage alongside the set for the event.
Onsite for the duration of the event, Production AV also supplied an experienced and friendly technician to assist with all the technical aspects of the conference.
If you have requirements similar to this, where you require a full solution, or maybe just support in one aspect, then please don't hesitate to get in touch with us, and we'd be delighted to offer a quotation for you.