Additional Investment in Barco PDS Series Switchers
Production av is now stocking the Barco PDS901 3G Switcher. Designed to complement our existing stock or Barco Image Processing (ScreenPRO II and ImagePRO II Dual) we have invested into the PDS Series of switchers.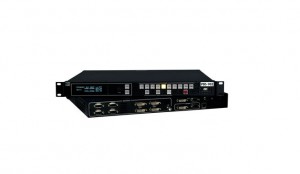 Seamless switcher with digital Input and Output
The PDS901 3G offers 9 inputs:
4 Universal Analog connections on VGA Connectors

4 Digital DVI-I inputs with full HDCP Support
1 3G/HD/SD SDI input
Outputs are on both Analog and DVI signal paths simultaneously, as well as offering a 3G/HD/SD SDI output that supports Barco Link technology, ideal for use with the Barco HDX-W20 Flex projectors. BarcoLink allows transmission of WUXGA Signals (1920×1200 @ 50/59.9/60Hz) over a single Coaxial cable up to 100m. This can dramatically simplify set up on site, and reduce cost, as fibre systems are no longer required.
Easy setup and Operation
The PDS is easy to set up, with test patterns for the optimisation of the display device, Logo stores for often used holding slides, and a built in webserver that enables remote control of the unit, including switching. The PDS series can also integrate into ScreenPRO II controlled systems acting as an auxiliary switcher for destinations such as stage relay monitors.
Available to Hire now
We have the PDS 901 3G available to hire now, alongside the Barco HDX Series projectors, ScreenPRO II and ImagePRO II Dual hardware as well as supporting hardware such as HD-SDI BNC cabling, TFT monitors and input sources.
PDS901 3G – £200 per Day, £600 per Week (ex VAT)
Please contact us for a specific quote relating to your requirements.