Production:av supply Graphics Switching System for the BBC Global Reith Awards.
March 11th saw the annual BBC Global Reith Awards being held in the BAFTA's Princess Anne Theatre in Central London. Production:av were contracting to help glue the event together for the main screen behind presenters George Alagiah and Annie Lennox.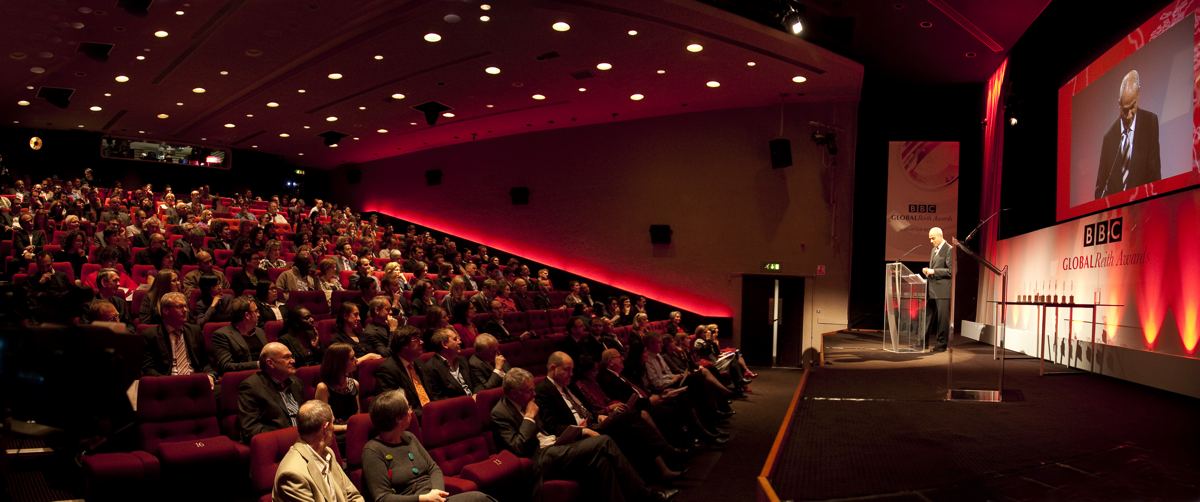 BBC Global
BBC Global is the umbrella name for the worldwide services that are part of the BBC. Awards were handed out across over 10 catagories to winners from around the globe in recognition of their work in bringing impartial news and services to the public, in innovative and traditional ways.
Held in the BAFTA's Princess Anne Theatre, the awards ceremony utilised the in house equipment provided by BAFTA, as well as external contractors such as Production:av to ensure the event went without a hitch.
Production:av – Digital Glue
Production:av were contracted to ensure that the range of sources to be displayed could be mixed and laid out on screen as wished, and the differing formats seamlessly mixed. Broadcast cameras, Keynote Presentations had to be scaled and mixed, maintaining their integrity before being fed to the in house Barco Digital Cinema projector at Full HD resolution.
Production:av also provided and operator to set up and control the system for the event, as well as running the Graphics sources to ensure that the correct keynote slides were shown at the right time.
The clients experience of dealing with Production:av was described by Richard Jack the producer:
Throughout the whole process you

have been really helpful: going way beyond what was expected to help us produce the high

standard we needed for the show. Your knowledge of the products was impressive; your

operational skills were first rate; your professionalism was much appreciated. But above all,

the 'can-do' attitude of production:av was refreshing.

I do hope we can work together again.
We hope to work again soon with Richard and his team, and really enjoyed the experience.